This is the second income report for SEO-Experiments.com, follow along with me on my journey to making SEO Experiments a place where internet marketers and SEO's can find real tests, analysis and results.
This month was slower than I expected due to catching the Flu that took me out for a week during Christmas. I do have several new sites with 0 backlinks set up and ready to start testing experiments in January so keep an eye out for these!
Here is what I have done in December
I became much more active in Google + and invited/followed people interested in SEO and internet marketing.
I created a LinkedIn group for the website and for professionals to ask questions or network with SEO's. LinkedIn Group Profile http://www.linkedin.com/groups/SEO-Experiments-6570650/about
One video tutorial was created for How to submit a PRweb Press Release and one experiment was posted about the results of only using SEnuke for linkbuilding.
Visitor Statistics
Here are some screen shots of my Google Analytics

Most of my traffic is from referrals such as internet marketing forums, social media, Youtube videos etc. I am surprised to see direct visits get up to 23% which could be a relation to the Aweber emails which I recommend for you readers to sign up! It's quick and easy to join plus I promise to only send valuable information.
In comparison to last months 556 total visits I think the increase to 922 is a great sign!
Keyword Searches

The website is still not ranking for much of anything. Also, Google isn't being very transparent either with the (not provided) keyword searches.
I think this could change after the blog starts generating more sharing and social interaction but as of right now 0 linkbuilding is doing nothing in terms of SEO traffic.
Referral Traffic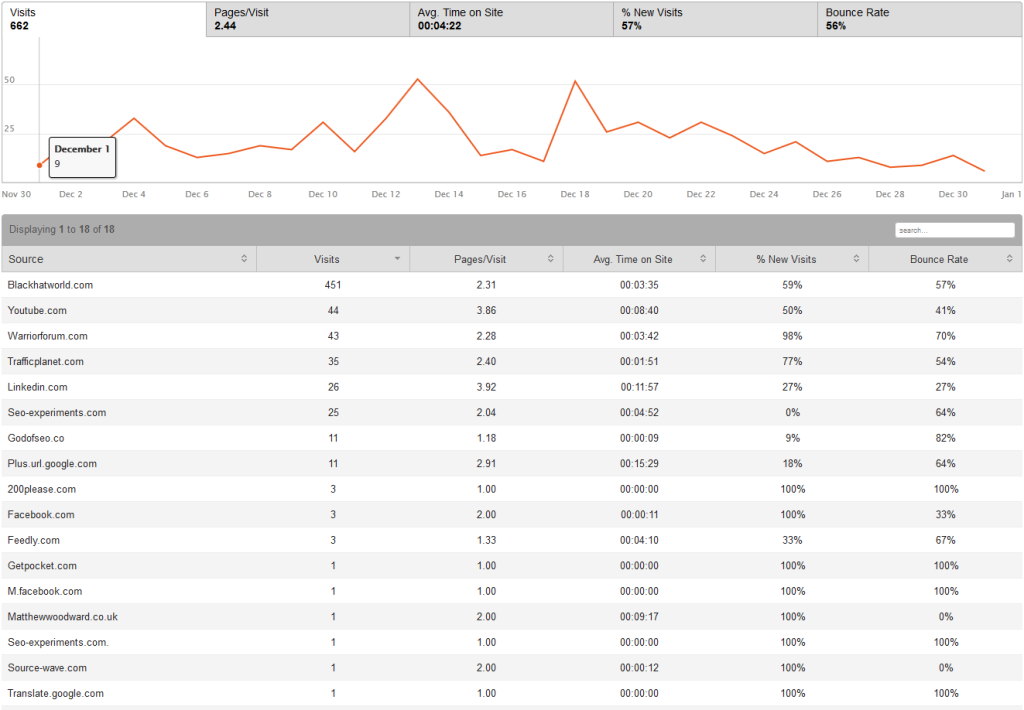 Blackhatworld is still my main source of traffic due to the popularity of the posts and great people over there. Youtube and Warrior Forum are a close 2nd & 3rd.
Something to note, is that my LinkedIn group referred 26 people whereas Google + referred 11. I spent much more time on Google + adding people and engaging others on their SEO content which seems to have resulted in less visits than a LinkedIn group that took about 20 mins to setup.
Youtube Analytics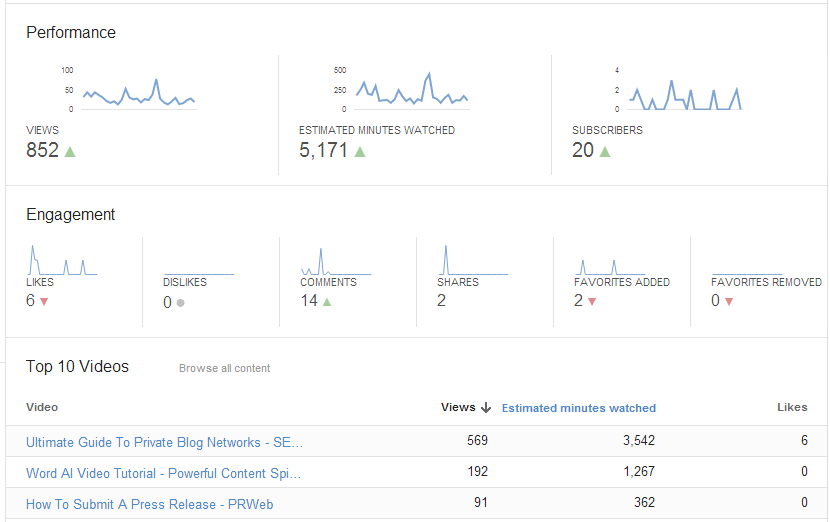 Youtube is still getting a good amount of views and really increased the amount of subscribers this month!
The total views was 852 this month compared to last months 716 so another increase this month.
Social Engagement
I did get my Facebook page up and running this month so don't forget to follow me on their as well, not a lot of love currently on the Facebook page.
Google + – 38 followers (+32 from last month)
Twitter – 40 followers (+3 from last month)
Facebook – 3 Likes
LinkedIn Group – 38 Members
Internet Marketing Forums
Internet Marketing forums are still providing the best value for interactions
Warrior Forum – 12 total posts
Blackhatworld – 34 posts,
Traffic Planet – 18 posts
Email Subscribers
Email – 15 (+4 from last month)
This month the amount of email subscribers really decreased while the amount of Youtube subscribers jumped up by 20. Maybe during the Holidays we are all being spammed by too much email?
Income Report
Aweber – $0
www.GoDaddy.com
– $0
Hostgator – $0
Namecheap.com – $0
Name.com – $0
SeNuke XCR – $0
Synnd – $0
Word AI Spinner -$29.97! I appreciate the sign ups, thank you
PRWeb – $0
I had 3 people sign up for Word AI through the affiliate link. I appreciate that because this was my first affiliate income!
Consulting - $40 This month I also did an hour of consulting with a reader who needed help reviewing their blog network. I enjoy consulting with other SEO's and internet marketers because when I say something that really clicks I can feel the excitement. Feel free to contact me at andrew@seo-experiments.com with any SEO questions you may have.
Expenses
Hostgator hosting – $25 Reseller account
Aweber – $20
It only took 2 months to get a positive revenue ($24.97) and hopefully this trend continues in 2014! I have a bunch of great experiments lined up for this month and February that will help you determine which steps to take with your online marketing campaigns. I highly suggest to sign up for the email list at the bottom of this post to stay current with the latest SEO Experiments that you don't want to miss! Best part of it all is that this information is free