How effective is Tiered Linkbuilding After The Latest Updates?
I am sure that most of you reading this have tried tiered linkbuilding in some form or another and wondered why I am doing this? Does tiered linkbuilding still work after all of the updates?
That seemed to be a very good question, so I created a fresh wordpress website, added some unique content, a silo structure and purchased several (cheap) Tiered Linkbuilding campaigns to start.
http://www.blackhatworld.com/blackhat-seo/seo-link-building/631105-search-engine-optimization-excellence-smarter-way-get-links-traffic-authority-sources-just-14-99-a.html
http://www.blackhatworld.com/blackhat-seo/seo-link-building/490916-best-link-pyramid-service-2-0-3-tiers-10-platforms-5460-unique-backlinks-only-5-a.html
It has only been a couple of weeks but the results quickly shot up, quicker than private blog network links. I will continue purchasing more tiered linkbuilding services and set up my own GSA tiered linking campaign to see if I can get these results to the first page.
The keywords search volume, competition and average CPC are as follow: (keywords inked out)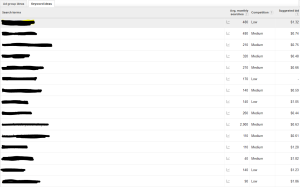 The Hypothesis:
1. The website will rank on page 2-3 for a majority of the keywords after another 2-3 months of tiered linkbuilding.
2. The website may have a few primary keywords hit the 1st page of results.
3. The inner Silo pages with SEO optimized content will rank better than the home page.
4. The website will get penalized during the next "Big" algorithm update – Does Churn and Burn Work?
The Experiment:
 1. In January 2014, I purchased tiered linking campaigns from Black Hat World (links above are shown).
2. I paid less than $50 for the first round of tiered links.
3. I will continue to purchase links every month and drip feed them throughout the month.
4. I will setup GSA to create links and then eventually Tiered links to the website
Analysis of Rankings:
 1. After the first month the website went to Page 3 & 4 for 2 keywords. 8 of the keywords starting to rank on pages 6-9.
2. Only the Inner Pages were ranking, homepage has now been picked up for any keywords yet.
Here is a ranking screen shot for the website: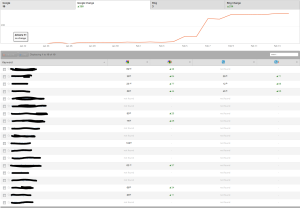 The current Domain Authority and Page Authority of the website is 1/1 probably indicating that Moz's crawlers haven't indexed the site yet. The Majestic SEO's Trust Flow and Citation Flow were 3/19 which is clearly bad news for long term rankings. One thing that is working out correctly is the distribution of anchor text as seen below. Several of the anchors are the natural variations of URLs and then partial match/exact match keyword anchors.
Here are screen shots: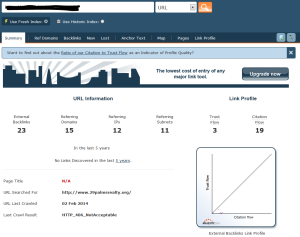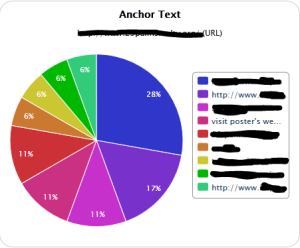 The Conclusion:
1. I was surprised to see rankings jump quickly (within 3 weeks) for cheap tiered linkbuilding services. I think it will be much harder going forward to get the website's rankings to the 1st page but we will see within the next couple of months what happens. So if you are looking for quick jumps on churn and burn websites this may be a good strategy, however the real value of 1st page rankings isn't there yet.
2. The trust flow of these links are extremely low and can be a quick indication that the website is using SEO methods to rank. If you are building links for a money site and need to increase the trust flow I would recommend creating your own private blog network of high DA/PA and TF/CT domains.
If you liked this content please feel free to share this post on Google +, Facebook and Twitter!
If you have questions or comments write a quick post and I will answer them!