This is the third income report for SEO-Experiments.com, follow along with me on my journey to making SEO Experiments a place where internet marketers and SEO's can find real tests, analysis and results.
This month was crazy setting up 6 websites all with different tests going on! I wanted to post meaty content in January but the results are too soon to post anything yet. I will reveal some of the experiments that have already had results in February though.
Here is what I have done in January
I created 6 brand new websites, same theme, all on WordPress, different industries/topics, all with a silo structure.
Each website has it's own SEO strategy or linking plan dedicated to it. I will really be able to identify what strategies produce results and which ones are simply wasting time and effort.
One epic post that had over 6,000 words and 12 responses from great SEO bloggers about the future of internet marketing and SEO http://www.seo-experiments.com/seo/interviews-12-seo-bloggers-seo-2014/
I also started a new monthly post that shows the top 5 internet marketing/SEO related articles that I read that month. Yes, the idea was taken from Matthew Woodwards blog! I figured that since I stay up til about 2:00 am reading posts on my iPad every night I might as well help my readers find the quality posts.
Visitor Statistics
Here are some screen shots of my Google Analytics – Click to enlarge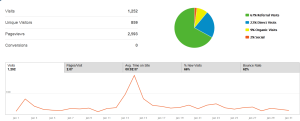 Most of my traffic is still from referrals. A new category has popped up this month which is social! I small 2% of visitors this month came through social media. I know that this came from twitter, Facebook and Google + shares from all of the SEO bloggers interviewed. I appreciate it!
The blogs traffic grew again this month in comparison to last months 922 total visits. 1,252 visits is awesome! I am constantly looking for new ways to market the blog and find ways to gain readership so it will be interesting to compare over each month.
Keyword Searches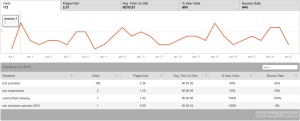 Still barely any love from search engines in terms of organic ranking. It also makes it frustrating to see that most of the searches are (not provided).  There is a real need for a tool that is easier to setup and provides more information than Google Analytics.
Also I have no idea what "conical flask drawing" is or how my website was relevant.. Good job Google updates
Referral Traffic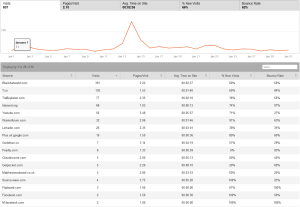 It is good to see twitter referrals showing up at #2 for referrals but a slight decrease in my #1 referral source blackhatworld. Inbound.org also sent a good 68 visits to the site but the average time spent and bounce rates were not good. I guess my site isn't good enough for folks at Inbound.org
Youtube Analytics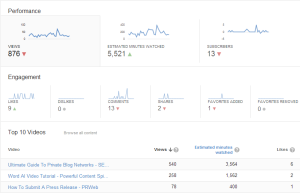 My Youtube views are steadily increasing up to 876 this month compared to last months 852. Did lose a few subscribers though, so I must need to step up my game on bringing higher quality videos.
Social Engagement
I did get my Facebook page up and running this month so don't forget to follow me on their as well, not a lot of love currently on the Facebook page.
Google + – 51 followers (+13 from last month)
Twitter – 40 followers (+0 from last month, I need to get more active on twitter and increase the followers)
Facebook – 5 Likes (+2 from last month)
LinkedIn Group – 43 Members (+5 from last month)
Internet Marketing Forums
Internet Marketing forums are still providing the best value for interactions
Warrior Forum – 8 total posts
Blackhatworld – 21 posts,
Traffic Planet – 12 posts
Email Subscribers
Email – 18 (+3 from last month)
I haven't published that many posts this month so not a lot of subscribers is to be expected. Hoping that February says different when I report the experiments that are being done

Income Report
Aweber – $0
www.GoDaddy.com
– $0
Hostgator – $0
Namecheap.com – $0
Name.com – $0
SeNuke XCR – $0
Synnd – $0
Word AI Spinner -$33.96! Word Ai is my one hit wonder!
PRWeb – $10 – Being reviewed
I had 4 people sign up for Word AI through the affiliate link this month. Thanks!
I am surprised that more people are not signing up for PRweb Press Release because of the 25% discount! http://www.dpbolvw.net/click-7338409-11049475
Consulting - $40 I provided another hour of consulting this month with a reader about setting up a private blog network and reviewing the current expired domains. Feel free to contact me at andrew@seo-experiments.com with any SEO questions you may have.
Expenses
Hostgator hosting – $25 Reseller account
Aweber – $20
Another positive revenue of ($27.98) I will be really looking for new affiliate programs that offer a lot of value to increase this number.
New posts are great experiments are on there way this month! Check back soon