This is the first income report for SEO-Experiments.com and will be a great way to analyze the growth of the blog overtime.
It will also be a good way for you to see how a blog can develop overtime!
I want to give a shout out to http://www.matthewwoodward.co.uk for being the first SEO blog that I read who published income reports. His site has inspired many bloggers including myself to follow in his footsteps.
Here is what I have done in November
I setup the website on November 4th, approximately a month after Google's Penguin 2.1 update that rocked my internet marketing business.
I created the Ultimate Guide To Private Blog Network and Word AI Video Tutorial.
There were also 3 SEO Experiments published as well as a contest for the Free PRweb Press Release which the winners Brandon and Jonatan had been randomly selected just for following me on Twitter and Google +!
I will have more contests in the future and give out free tools/PRs so if you didn't win there will be more chances to come!
Visitor Statistics
Here are some screen shots of my Google Analytics integrated with MySEOtools.com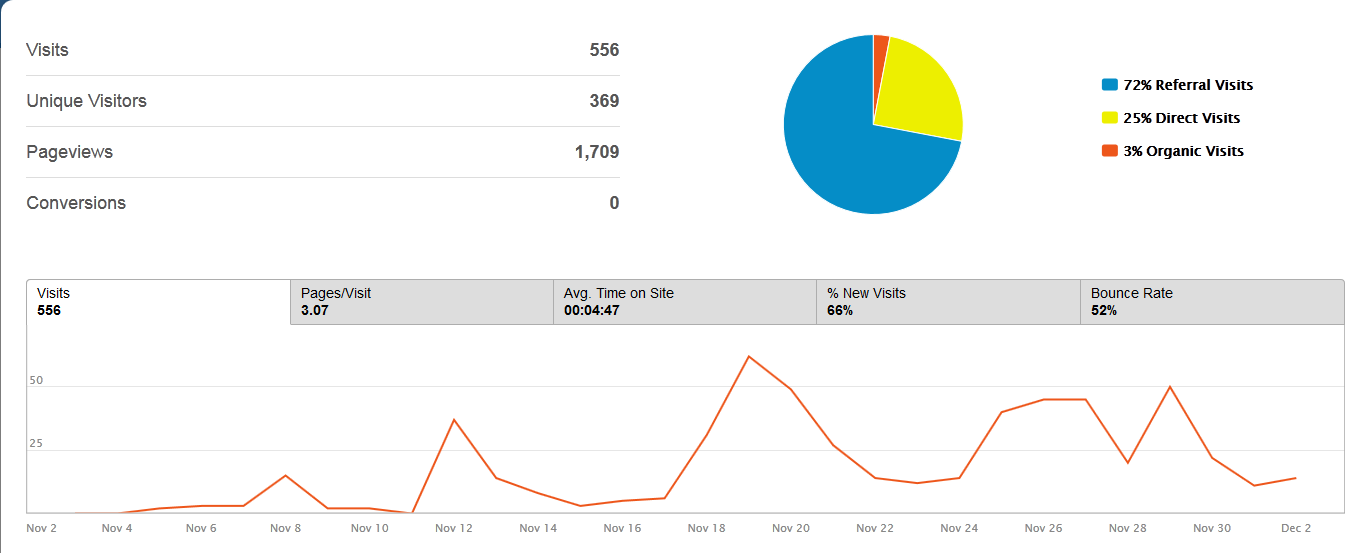 My website saw about 550 total visits in the first month and 369 of those visitors were unique!
Keyword Searches

For the most part, Google does not love this site yet. I have received 17 visits from (not provided) keywords, a very long tail keyword, and "SEO experiment andrew" (corrected the spelling)
I think as the blog grows over time and generates real links and shares it will start to generate more organic search traffic.
Referral Traffic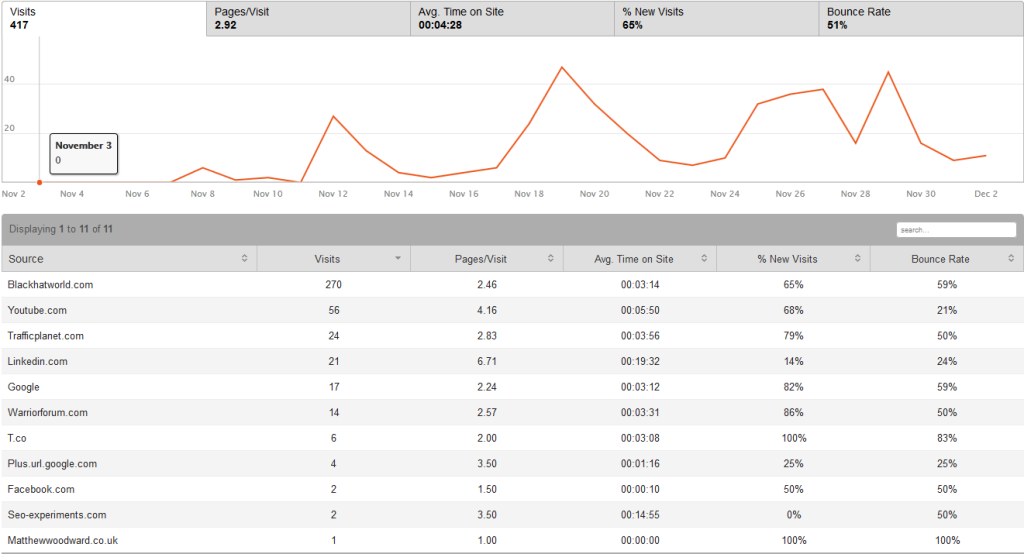 Referrals are probably one of the most powerful ways to market yourself online and offline. When you are starting out in business referrals are what usually get you the first couple of projects that you get to show off in your portfolio. Same goes for the internet marketing world. As you can see my top 3 referrers blackhatworld, Youtube, and Traffic planet sent 350 visitors to my website! I don't know how I sent myself 2 visitors?
Youtube Analytics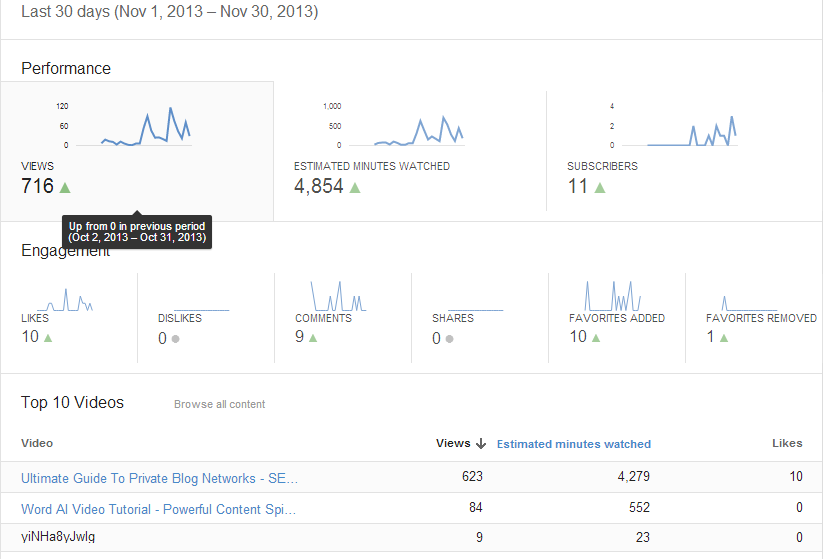 Youtube is a great way to explain things like setting up a private blog network or reviewing SEO tools. It is also preferred by most visitors so they can listen to it or visually learn how to do something.
My two videos have been seen a total of 710 times! I think that is a good amount for the first month and would hopefully continue to be shared/seen.
Social Engagement
One thing that I need to do is setup a Facebook page for the site. Honestly don't know why this hasn't been done yet.
Google + – 6 followers
Twitter – 37 followers
Haven't had that much going on with Google +, maybe internet marketing users still prefer Facebook?
Internet Marketing Forums
I made several posts/responded to questions on the following forums
Warrior Forum – 5 total posts
Blackhatworld – 22 posts,
Traffic Planet – 6 posts
I think if I got more involved with the forums it would bring more traffic. However, I am trying to step lightly because I don't want to get banned for self promotion.
Email Subscribers
Email – 11 new subscribers
I have setup an Aweber account to notify anyone when a new post is published or if big industry news happens. Please subscribe and you will be the first to know of new SEO experiments!
Income Report
Aweber – $0
www.GoDaddy.com
– $0
Hostgator – $0
Namecheap.com – $0
Name.com – $0
SeNuke XCR – $0
Synnd – $0
Word AI Spinner -$0
In the first month of the blog I wasn't expecting to receive any affiliate commission. In the early stages of a website I think the emphasis is to focus on creating awesome content and sharing the blog.
Expenses
Hostgator hosting – $25 Reseller account
Convergence Theme – $40
Domain Registration – $10
Aweber – $1.00
The total expenses come out to a total of $76! The price to setup a website is inexpensive considering if you purchase a theme and do it yourself. Also, hosting can easily cost less than $5 per month if you only want to host a few domains. I signed up for a Hostgator reseller plan so that I can addon client accounts for website design projects.
If you are on the fence about starting your own blog or doing internet marketing I highly recommend to stop reading and start doing.
Thanks for all the positive feedback and yes even negative feedback! I enjoy turning a negative comment into something better. This is how I will grow into a better writer/blogger